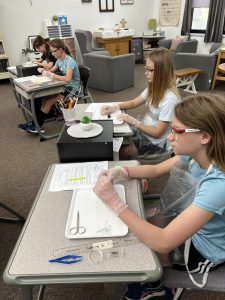 Classical Education
Why classical education?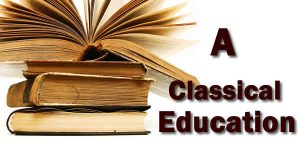 Over the years, a generation of students has graduated from high schools and institutions of higher learning across our country acquiring a great deal of information and knowledge. They have a great passion to contribute to society. However, many lack the ability to clearly communicate their ideas in a succinct, objective manner with logic and facts to support their views. We want to give our students the ability to not only be able to formulate opinions and ideas based on facts and truth but the ability to also communicate such thoughts in constructive, winsome ways. After examining the classical methodology, we see that it provides a time-proven structure to help our students develop skills to be thoughtful, knowledgeable, discerning citizens who are life-long learners with a solid foundation of what is truthful and right.
What is classical education?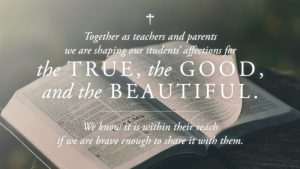 Generally speaking, educational philosophies distill into one of two basic models, The cognitive-developmental model, and the behavioral model. The cognitive-developmental model teaches a core of knowledge in a way that challenges the student's thinking. The imparting of wisdom goes beyond the assimilation of facts to the teaching of values, truth, decision-making, and critical thinking. This model was perfected in the 15th and 16th centuries and educated most of the great thinkers and artists of the Renaissance and early Reformation periods. It was used almost exclusively in schools until around 1950 when the behavioral model stepped forward.
The model that most influences our country's schools and teacher training today is the behavioral model. Developed early in the 20th century, this model is built upon the principle of communicating information to the students and measuring their learning by how they recall and report that information on a test. Practical application and depth of understanding are not as strongly emphasized with this model. This model of teaching has been said to create technicians designed to produce good test scores rather than students equipped with knowledge, understanding, wisdom, and truth.
Martin Luther School utilizes a cognitive-developmental model commonly referred to as the classical model. It best respects the developmental stages of a child's learning abilities and teaches in such a way as to take advantage of and build upon those natural stages of cognitive maturation.
Teaching and learning, therefore, follow a pattern from the more concrete to the more abstract. The classical model is built upon the Trivium used in the Middle Ages. Regardless of the child's natural style of learning (tactile, auditory, or visual), all children experience the three phases of development as described in the trivium.
The trivium's three phases of learning are adapted to three phases of development in children—Grammar, Logic, and Rhetoric
The Grammar Stage (Grades K-5)
This stage is focused on laying foundational knowledge in all areas of study. Teachers employ developmentally appropriate methods such as memorization, recitation, and songs, chants, and games with grammar students. This is the stage where students become storehouses of information.
The Logic Stage (Grades 6-8  Please note: We currently only offer through 6th grade, but planning to add 7th grade for the 23-24 school year.)
This stage takes the foundational knowledge gained in the grammar stage and expounds on it. Students in this phase are naturally argumentative and are beginning to ask difficult questions about their world. Analysis and critical reasoning are the chief mental acts of this stage. Developmentally, logic students learn best through debate and discussion.
The Rhetoric Stage (Grades 9-12)
(Please note that we currently do not offer grades 9-12.  This merely explains the classical model for students in those grades.)
This stage is the culmination of the trivium. The student of rhetoric takes the foundational knowledge gained in grammar school, the analytical skills of the logic stage, and begins producing and defending his/her own ideas. Thesis defense and eloquently written and oral communication are the hallmarks of the rhetoric stage.
Apart from obvious differences in curriculum and instruction, classical education differs fundamentally from traditional education in its focus on the interrelation of all knowledge. While traditional education teaches math, English, and history as isolated "subjects," classical education seeks to show the interrelation of all knowledge. Math relates to science, which relates to logic. Literature relates to history, which relates to art and music. Christian classicists take the connection further by pursuing the interrelatedness of all knowledge under the sovereignty of God through theology.
Classical education seeks to stir the heart and the intellect to invite curiosity and ignite a passion for learning. It is less about training for a specific, temporal vocation and more about learning to think and live with an eternal purpose.
Reflection on classical education
People often demand statistics that classical education works. This is a fair request since it is only recently that it has come back into favor; in that sense, it is "untested". However, with a wider view of history, it is a surprising request. The best response is pointing to what has happened to our educational system and our culture ever since we abandoned our appreciation for classical education and our Western cultural heritage.
Whatever your background, I don't think there is anyone that thinks our children are better educated now than in the past. Is our technology better? Yes. Is there anything else we can boast over our ancestors in terms of being better formed, more moral, wiser (not just being able to access more information on our phones)? Therein lies the impetus to implement classical education.
Perhaps some might take issue with the focus on Western civilization and culture. Isn't this narrow-minded? Not at all. First of all, here in the West, it makes sense for us to be in touch with our cultural roots. Second of all, it is due to the West – its Greco-Roman roots and Christian fulfillment – that we even have the values which we consider so sacrosanct: human dignity, personhood, freedom, altruism, etc.
If we polled exasperated parents in this social media-driven culture, what would they say that our younger generations need the most? More technology? More entertainment? Absolutely not. Almost certainly the majority would say: "Some kind of stability. A moral compass. Virtue. The ability to think for themselves. The ability to communicate." These are all things that classical education aims to provide. Not just information and preparation for a pragmatic and materialistic life. Does modern education address the soul? No. It either denies or ignores the soul. It treats our young as receptacles of information and nothing more. Can we really call anything "education" that ignores the most important aspect of a human person?
So, the better question is: Where is the data that our abandonment of classical education has benefitted us?
Classical Education Curriculum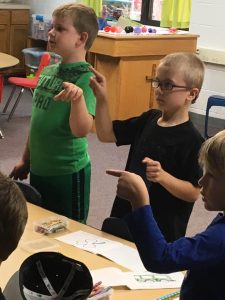 Since our students are in grades K-5, the grammar stage, our goal is to optimize their ability to absorb knowledge, facts, and information. Games, chants, rhymes, songs, movement—these are all part of the way we help engage our students with information that they can use and process even more as they mature. During the grammar stage, they develop a storehouse of information that they can turn to later one when they reach the logical stage in grades 6-8 as they formulate ideas and opinions based on facts.
Memorization has become a long-lost, yet highly valuable skill. Our students will hone that skill of memorization not only through learning and absorbing facts but also learning by heart God's Word. While the term "memory work" may come to mind, it is more "learning by heart," actually taking to heart God's Word. Because students in the grammar stage are drawn to motion, repetition, action, songs, and chants, we use these activities to assist with learning this information by heart.
Religion: Christ is truly at the center of what we do at Martin Luther School and Preschools. Prayer is integrated at various times of each day, beginning, end, at mealtime, and whenever needed.
Our religion curriculum gives our students background in basic Bible accounts, Lutheran doctrine, and the application of God's Word to their daily lives.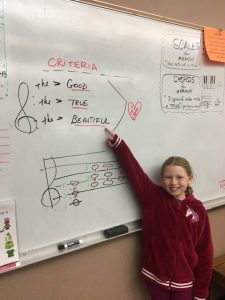 Chapel services are held each Wednesday morning at 8:30, led by pastors from our association LC-MS churches. Parents and visitors are invited to attend these if they wish. Students have the opportunity to bring an offering for chapel. Each quarter of the school year specific charities and ministries are supported by our gifts and offerings.
Math: We use the Rod and Staff curriculum.  Rod and Staff integrates continual reviewing of prior concepts while adding new concepts of mathematic skills. As students advance, a typical lesson may include fractions, geometric, as well as algebraic concepts.
History: We have adopted a combination of The Mystery of History by Bright Ideas Press and "Story of the World" for grades 2-5. We feel that students have a better grasp of history when taught chronologically.
2nd Grade covers the beginning of time to 33 A.D.
3rd Grade covers 33 A.D. to the Renaissance.
4th Grade covers the Renaissance to 1701.
5th Grade covers 1701 to modern times.
Geography is also included so that our students have an understanding of the United States, other countries, and the geographical features of our planet.
Literacy We use the spelling, writing, and reading program from Memoria Press. This curriculum has a strong foundation in phonics and fosters a master of basic skills for the early readers.
Science: Our next content area to adapt will be science. We are currently using a combination of Memoria Press and a Biblically-based series from Bob Jones University Press. At the grammar stage, students will learn the facts of science in the world around them. Life science, biology, geology, and elements of scientific study are covered. Again, this will come from a Biblical perspective.
As students progress in the concepts of science, we know that different theories will be presented and evaluated. The theory of evolution, as it is part of not only science but also history as Darwin is introduced in the 5th-grade scope and sequence, is part of the science curriculum, and is defined as what it is, a theory. We teach creationism, a 6-day creation, holding true to Scripture. However, that does not deter us from teaching the facts and theories of the study of science itself.
Latin: Latin is one of the building blocks in understanding not only our own language and sentence structure but also sets our students up for success in other language acquisition. Basic Latin is introduced as early as kindergarten and continues on through the 5th grade. We introduced Latin to our curriculum with the Song School Latin series published by Classical Academic Press for 1st and 2nd grade and Memoria Press for grades 3-5.
Learning Cursive: Cursive handwriting is also part of our curriculum. Research shows that teaching handwriting skills benefit cognitive development and motor skills and reading comprehension. Students challenged with dyslexia benefit from using cursive handwriting. Cursive handwriting helps with knowledge retention, as well. Having an understanding of cursive also allows students to read many historical documents in their original form. We use the New American Cursive series from Memoria Press and introduce cursive in the first grade.
Music and the Arts: As Luther once said, "When you sing, you pray twice." Music has a special place in the Lutheran tradition. It is also highly useful for committing to heart that which is of most importance, God's Word and truth.
Our students are also introduced as early as preschool to well-known artists and their works. Our elementary students have an "artist of the week" that they include in their weekly recitations. They are introduced to the artist and the title of specific works by the artist. They also learn different techniques and work with different mediums to create works of their own.
Martin Luther School has an appreciation for hymnody and liturgy in chapel and in the classroom. Luther used hymns as a means to teach people the truths of scripture. Hymnody is rich with beautiful language, metaphor, and illustration. Familiarity with hymns can help children to quickly understand the cadence and rhythm of music and poetry as well as teach students how to read musical notation itself.
Our students also enjoy taking part in musicals. Through musicals, our students learn stage presence, movement with music, and teamwork as they work together to create a polished production. It is one of the highlights of the year!
Luther Academy of Music: Private piano, instrumental band, and Suzuki violin are offered through Luther Academy of Music, and students have the opportunity to take these lessons during the school day.
ABC Care Program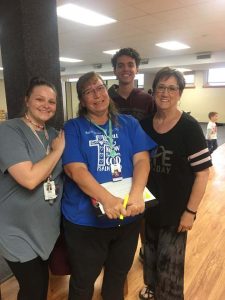 Before and After School Care is proudly supplied through Martin Luther Schools is ABC Care. This program, "All Because of Christ," is a school childcare program that is designed for students, held before and after school. ABC Care hours are from 7:15 a.m. until 8:05 a.m. before school. After school hours are from 3:15 p.m. through 5:30 p.m. There is no charge to use ABC Care in the morning. Afternoon ABC Care will have the rate of $4.00/hour. Non-students are also welcome to attend the ABC program activities.
Extra Curricular
Martin Luther offers various Extra Curricular Activities in school. Many students participate in community sponsored activities as well.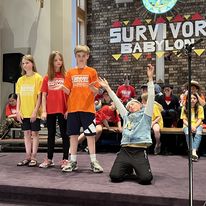 MLS Extra Curricular Activities
To find more information on activities available at school, please visit the Extra Curricular page.
Enrollment
Martin Luther School offers an affordable option for a Christian Education in the Bismarck-Mandan area.
Please contact the main office for more information or to schedule a tour at (701) 224-9070 or office@lutherschools.org
Kindergarten-Grade 7
*Registration Fee $125 per child
Academic & Technology Fee $175 per child K-7
This fee helps cover expenses including class projects, field trips, MLS t-shirt, and technology. Grades 5-7 includes 1:1 school-owned device.
Yearly Tuition Rates
Per Student $5750
Apply online: mytads.com/a/martinlutherbismarck
Set-up code (if requested) is ATG4X-8C3
Preschool
*Registration & Supply Fee $125.00
Yearly Tuition Rates
Half-Day – $3700
Full-Day – $6000
** Registration fees are non-refundable.
Apply online: mytads.com/a/martinlutherbismarck
Set-up code (if requested) is AIZCS-16B