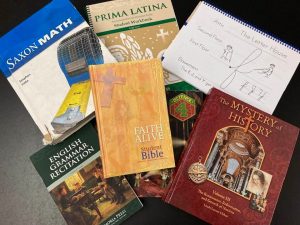 Classical Education
Why classical education?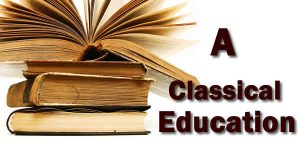 Over the years, a generation of students has graduated from high schools and institutions of higher learning across our country acquiring a great deal of information and knowledge. They have a great passion to contribute to society. However, many lack the ability to clearly communicate their ideas in a succinct, objective manner with logic and facts to support their views. We want to give our students the ability to not only be able to formulate opinions and ideas based on facts and truth but the ability to also communicate such thoughts in constructive, winsome ways. After examining the classical methodology, we see that it provides a time-proven structure to help our students develop skills to be thoughtful, knowledgeable, discerning citizens who are life-long learners with a solid foundation of what is truthful and right.
What is classical education?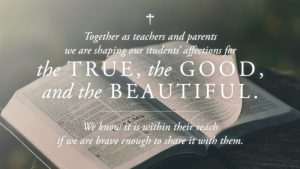 Generally speaking, educational philosophies distill into one of two basic models, The cognitive-developmental model, and the behavioral model. The cognitive-developmental model teaches a core of knowledge in a way that challenges the student's thinking. The imparting of wisdom goes beyond the assimilation of facts to the teaching of values, truth, decision-making, and critical thinking. This model was perfected in the 15th and 16th centuries and educated most of the great thinkers and artists of the Renaissance and early Reformation periods. It was used almost exclusively in schools until around 1950 when the behavioral model stepped forward.
The model that most influences our country's schools and teacher training today is the behavioral model. Developed early in the 20th century, this model is built upon the principle of communicating information to the students and measuring their learning by how they recall and report that information on a test. Practical application and depth of understanding are not as strongly emphasized with this model. This model of teaching has been said to create technicians designed to produce good test scores rather than students equipped with knowledge, understanding, wisdom, and truth.
Martin Luther School utilizes a cognitive-developmental model commonly referred to as the classical model. It best respects the developmental stages of a child's learning abilities and teaches in such a way as to take advantage of and build upon those natural stages of cognitive maturation.
Teaching and learning, therefore, follow a pattern from the more concrete to the more abstract. The classical model is built upon the Trivium used in the Middle Ages. Regardless of the child's natural style of learning (tactile, auditory, or visual), all children experience the three phases of development as described in the trivium.
The trivium's three phases of learning are adapted to three phases of development in children—Grammar, Logic, and Rhetoric
The Grammar Stage (Grades K-5)
This stage is focused on laying foundational knowledge in all areas of study. Teachers employ developmentally appropriate methods such as memorization, recitation, and songs, chants, and games with grammar students. This is the stage where students become storehouses of information.
The Logic Stage (Grades 6-8  Please note: We currently only offer through 6th grade, but planning to add 7th grade for the 23-24 school year.)
This stage takes the foundational knowledge gained in the grammar stage and expounds on it. Students in this phase are naturally argumentative and are beginning to ask difficult questions about their world. Analysis and critical reasoning are the chief mental acts of this stage. Developmentally, logic students learn best through debate and discussion.
The Rhetoric Stage (Grades 9-12)
(Please note that we currently do not offer grades 9-12.  This merely explains the classical model for students in those grades.)
This stage is the culmination of the trivium. The student of rhetoric takes the foundational knowledge gained in grammar school, the analytical skills of the logic stage, and begins producing and defending his/her own ideas. Thesis defense and eloquently written and oral communication are the hallmarks of the rhetoric stage.
Apart from obvious differences in curriculum and instruction, classical education differs fundamentally from traditional education in its focus on the interrelation of all knowledge. While traditional education teaches math, English, and history as isolated "subjects," classical education seeks to show the interrelation of all knowledge. Math relates to science, which relates to logic. Literature relates to history, which relates to art and music. Christian classicists take the connection further by pursuing the interrelatedness of all knowledge under the sovereignty of God through theology.
Classical education seeks to stir the heart and the intellect to invite curiosity and ignite a passion for learning. It is less about training for a specific, temporal vocation and more about learning to think and live with an eternal purpose.
Reflection on classical education
People often demand statistics that classical education works. This is a fair request since it is only recently that it has come back into favor; in that sense, it is "untested". However, with a wider view of history, it is a surprising request. The best response is pointing to what has happened to our educational system and our culture ever since we abandoned our appreciation for classical education and our Western cultural heritage.
Whatever your background, I don't think there is anyone that thinks our children are better educated now than in the past. Is our technology better? Yes. Is there anything else we can boast over our ancestors in terms of being better formed, more moral, wiser (not just being able to access more information on our phones)? Therein lies the impetus to implement classical education.
Perhaps some might take issue with the focus on Western civilization and culture. Isn't this narrow-minded? Not at all. First of all, here in the West, it makes sense for us to be in touch with our cultural roots. Second of all, it is due to the West – its Greco-Roman roots and Christian fulfillment – that we even have the values which we consider so sacrosanct: human dignity, personhood, freedom, altruism, etc.
If we polled exasperated parents in this social media-driven culture, what would they say that our younger generations need the most? More technology? More entertainment? Absolutely not. Almost certainly the majority would say: "Some kind of stability. A moral compass. Virtue. The ability to think for themselves. The ability to communicate." These are all things that classical education aims to provide. Not just information and preparation for a pragmatic and materialistic life. Does modern education address the soul? No. It either denies or ignores the soul. It treats our young as receptacles of information and nothing more. Can we really call anything "education" that ignores the most important aspect of a human person?
So, the better question is: Where is the data that our abandonment of classical education has benefitted us?