Here at Martin Luther School, we aim to provide each student that walks through these halls an outstanding education with a strong, competitive curriculum, an emphasis on Christian faith, and offers a safe environment that has a zero-tolerance for bullying. We benefit from smaller class sizes for students in preschool-7th grade, which allows for more individualized attention to each student.
There are many advantages of a Christian-based education at Martin Luther School. Students will be motivated by a commitment to the gospel. Everyone has a learning style that is unique to them. Our teachers and staff will be able to help your child grow a more positive mindset, and be able to assist your child to ensure that they succeed. Students will also create lasting relationships with classmates. These relationships will be strengthened by a Christian faith belief system shared by the students and staff.
It is important for students to walk away with a sense of confidence that they may not have gained through a standard school. Focusing on beliefs will also help them flourish spiritually. Once they complete our curriculum, their lives should be forever changed in a positive, Christian attitude.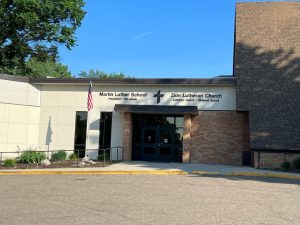 We encourage you to take a look around our website and visit Martin Luther School to see what benefits a Christian-based education can do for your child.
BMLSA Congregations
Martin Luther School is supported by the member congregations of the Bismarck-Mandan Lutheran School Association.
Bethel Lutheran Church
615 East Turnpike Avenue
Bismarck, ND 58501

701-255-1433
Messiah Lutheran Church
1020 Boundary Rd NW
Mandan, ND 58554
701-663-8545
messiahmandan.org
Shepherd of the Valley Lutheran Church
801 E. Denver Avenue
Bismarck, ND 58504
701-258-4231
sotv-bis.org
Zion Lutheran Church
413 E Avenue D
Bismarck, ND 58501
701-223-8286
zionbismarck.org
Christian Education
Our Mission
Enriching lives and sharing Christ through quality classical Lutheran education.
History
Martin Luther School was established in 1995 by the Bismarck-Mandan Lutheran School Association. The Association was formed by four Lutheran Church-Missouri Synod congregations in Bismarck and Mandan: Bethel, Messiah, Shepherd of the Valley, and Zion.
Christ-Centered Education
In preschool through 7th grade, our emphasis at Martin Luther School is on providing a well-rounded education in order to provide children the foundation they need for academic and personal success. We seek to provide an education that is Christ-centered and focused on academics as well as the personal growth and development of each child. Martin Luther School is dedicated to providing the highest quality Christian education. We know that what we do at Martin Luther School makes a difference in the hearts and minds of children today – children that will be leaders of tomorrow.
Advantages of a Christian Education
SPIRITUAL: We are driven by a commitment to the Gospel. The message of God's Word is interwoven into the lives of students on a daily basis.
ACADEMIC: Smaller class sizes allow for more individualized attention.
PERSONAL: We focus on relationships with each other. We teach children leadership skills that will be carried with them throughout life.
FAQ
1. Is Classical Education still relevant and practical in the modern age?
It most certainly is, and for such a time as this, it is having a rebirth. "Classical" does not refer to a desire to cling to what is outdated, or to ignore what is new; rather, it accommodates modern advancements in science, math, etc. It equips students with all of the practical knowledge that they need in order to be successful in their life beyond school.
Further, one of the most important aspects of this kind of education is its aim of teaching students how to think critically, how to communicate, how to have a rational discussion. What could be a more important skill in our chaotic and emotion-driven modern public discourse? The incorporation of the Socratic Method – that is, teacher-guided discussion amongst the students – aims to give them the ability to ask questions and articulate their thoughts in a calm, logical, and charitable manner.
Students learn the modern world and US history, but it is important to note that a classical education aims first to anchor and orient its students in the foundations of Western Civilization. Studying Greco-Roman culture in particular, along with its fulfillment in medieval Christendom, allows the students to understand the foundations upon which our society has been built and the foundational principles and values which our society has now rejected. To ignore or downplay Western history is to rob students of their own rich cultural, intellectual, moral, and spiritual heritage.
2. Do Classical Educators reject academic standards and standardized testing?
No, we do not. There are academic standards and standardized testing in this type of education. In fact, one of the most notable statistics in the realm of Classical Liberal Education is the high (and often superior) performance of classically-educated students on standardized tests such as the SAT.
However, standards, "measurables", statistics, etc. are not believed to be as centrally important as they are in modern education. We refuse to measure a student's performance merely by numbers and standards. We use standards as one set of guidelines in a more holistic and human approach to formation – academic, moral, and spiritual.
3. Why study Latin?
There are so many reasons to study Latin! Too many to list here, in fact! Please refer to the very informative links below:
4. How do you view the use of technology?
Technology is part of our daily life. However, unless technology has a very focused purpose in the classroom, any teacher will tell you how it becomes more of an obstacle or distraction. Students have access to computers in order to do research and typing. Further, students who need assistive technology for reading are given the technology for this as well. While students are taught how to type properly, we also continue to teach penmanship and often require handwritten work.
Enrollment
Martin Luther School offers an affordable option for a Christian Education in the Bismarck-Mandan area.
For more information or to schedule a tour please contact our school office by phone 701-224-9070 or by email office@mlsclassical.org.
Please contact the main office for more information or to schedule a tour at (701) 224-9070 or office@lutherschools.org
Kindergarten-Grade 7
*Registration Fee $125 per child
Academic & Technology Fee $175 per child K-7
This fee helps cover expenses including class projects, field trips, MLS t-shirt, and technology. Grades 5-7 includes 1:1 school-owned device.
Yearly Tuition Rates
Per Student $5750
Apply online: mytads.com/a/martinlutherbismarck
Set-up code (if requested) is ATG4X-8C3
Preschool
*Registration & Supply Fee $125.00
Yearly Tuition Rates
5-day Pre-K mornings only $3700
5-day Pre-K Plus program (full days) $6000
** Registration fees are non-refundable.
Apply online: mytads.com/a/martinlutherbismarck
Set-up code (if requested) is AIZCS-16B